Judul Anime : The Journey
Judul Alternatif : The Journey
Tipe Anime : Movie
Status Anime : Finished Airing
Jumlah Episode : 1
Musim Rilis : Summer 2021
Tanggal Tayang:
Durasi per Episode : 1 hr. 49 min.
Skor di MyAnimeList : 6.62
Film ini awalnya direncanakan akan tayang perdana pada tahun 2020 di Festival Film Cannes yang dibatalkan karena pandemi COVID-19. Film ini dijadwalkan rilis pada tahun 2021. VOX Cinemas memiliki hak teatrikal untuk film tersebut di wilayah Timur Tengah dan Afrika Utara, sementara anak perusahaan Toei T-Joy memiliki hak distribusi untuk film tersebut di Jepang.
Sinopsis Journey: Taiko Arabia Hantou de no Kiseki to Tatakai no Monogatari
The Journey adalah film animasi Jepang–Arab Saudi yang diproduksi bersama oleh Toei Animation dan Manga Productions yang disutradarai oleh Shizuno Koubun. Film ini berkisah tentang seorang pembuat tembikar bernama Aws yang bergabung dalam pertempuran untuk mempertahankan kota kelahirannya.
Trailer Journey: Taiko Arabia Hantou de no Kiseki to Tatakai no Monogatari
Download The Journey Subtitle Indonesia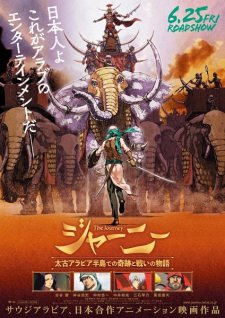 Journey: Taiko Arabia Hantou de no Kiseki to Tatakai no Monogatari