Judul Anime : DanMachi Season 3
Judul Alternatif :
Tipe Anime : TV
Status Anime : Finished Airing
Jumlah Episode : 12
Musim Rilis : Fall 2020
Tanggal Tayang: Saturdays at 00:30 (JST)
Studio yang Memproduksi : J.C.Staff
Durasi per Episode : Unknown
Skor di MyAnimeList : 7.52
Informasi DanMachi Season 3
Is It Wrong to Try to Pick Up Girls in a Dungeon? (ダンジョンに出会いを求めるのは間違っているだろうか,Danjon ni Deai o Motomeru no wa Machigatteiru Darō ka), juga dikenal sebagai DanMachi (ダ ン ま ち) singkatnya adalah seri novel ringan Jepang, dan dengan terjemahan bahasa Inggris, ditulis oleh Fujino Ōmori dan diilustrasikan oleh Suzuhito Yasuda. SB Creative telah menerbitkan lima belas volume sejak Januari 2013 di bawah jejak GA Bunko mereka.
Ini telah menerima dua adaptasi manga serta adaptasi anime televisi oleh JCStaff, yang ditayangkan dari 4 April hingga 27 Juni 2015. Sebuah OVA dirilis pada 7 Desember 2016. Musim anime kedua dan adaptasi film anime asli keduanya diumumkan pada Februari 2018. Film berjudul Is It Wrong to Try to Pick Up Girls in a Dungeon ?: Arrow of the Orion tayang perdana pada 15 Februari 2019. Musim kedua ditayangkan mulai 13 Juli hingga 28 September 2019. Anime ketiga season dan episode OVA keduanya diumumkan pada 27 September 2019. Musim ketiga dijadwalkan tayang pada Juli 2020 tetapi ditunda hingga Oktober 2020 karena pandemi COVID-19.
Selain itu, seri novel ringan spin-off berjudul Is It Wrong to Try to Pick Up Girls in a Dungeon? On the Side: Sword Oratoria dimulai pada Januari 2014, dan seri novel ringan spin-off lainnya berjudul Is It Wrong to Try to Pick Up Girls in a Dungeon ?: Familia Chronicle (diilustrasikan oleh Nilitsu) dimulai pada Maret 2017. Kedua spin-off juga memiliki menerima adaptasi manga, dan adaptasi anime televisi dari Sword Oratoria ditayangkan dari 14 April hingga 30 Juni 2017.
Sinopsis DanMachi Season 3
Musim ketiga Dungeon ni Deai wo Motomeru no wa Machigatteiru Darou ka.
Ceritanya mengikuti eksploitasi Bell Cranel, seorang petualang solo berusia 14 tahun di bawah dewi Hestia. Sebagai satu-satunya anggota Hestia Familia, Dia bekerja keras untuk memenuhi kebutuhan. Dia menghormati Ais Wallenstein, pendekar pedang terkenal dan kuat yang pernah menyelamatkan hidupnya, dan dengan siapa dia jatuh cinta. Dia tidak menyadari bahwa beberapa gadis lain, dewa dan manusia, juga mengembangkan kasih sayang padanya; terutama Hestia sendiri, karena dia juga mendapatkan sekutu dan meningkatkan dirinya dengan setiap tantangan baru yang dia hadapi.
Main Character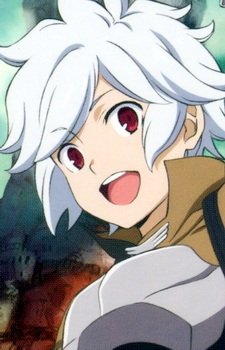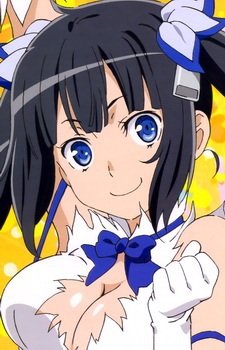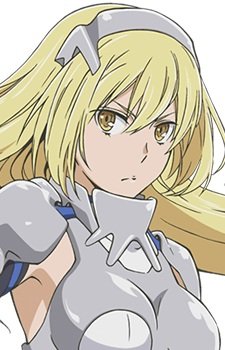 Trailer DanMachi Season 3
Official Site:
Danmachi
Series Lainnya :
Download DanMachi Season 3 Subtitle Indonesia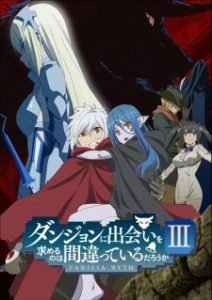 DanMachi Season 3 OVA ~ HunterSekai
DanMachi Season 3 Batch AniBatch
DanMachi Season 3 Episode 12 END ~ OPLoverz
DanMachi Season 3 Episode 11 ~ OPLoverz
DanMachi Season 3 Episode 10 ~ OPLoverz
DanMachi Season 3 Episode 09 ~ OPLoverz
DanMachi Season 3 Episode 08 ~ OPLoverz
DanMachi Season 3 Episode 07
DanMachi Season 3 Episode 06
DanMachi Season 3 Episode 05
DanMachi Season 3 Episode 04
DanMachi Season 3 Episode 03
DanMachi Season 3 Episode 02
DanMachi Season 3 Episode 01